We're Focused on What Matters Most Right Now in

the Champlain Valley and Across Greater V

ermont
At the JLCV our focus continues to evolve according to our community's most pressing needs. Our current community goal of affordable living can be achieved through education, raising awareness and supporting families with tangible results.
Our goal is to help Vermont women develop civic leadership skills through the work they do, then put those talents to work in the communities that need it. Our current focus of affordable living gives women opportunities to grow, while positively impacting the communities where they live and work. 
We're Transforming Vermont Communities By Challenging the Status Quo
No matter what we're currently focusing on, JLCV's work centers around improving our local communities through effective action and leadership. We have identified affordable living as the most pressing issue in our community right now, and we are helping local women take action to resolve it.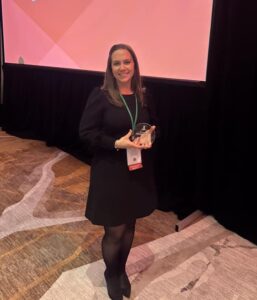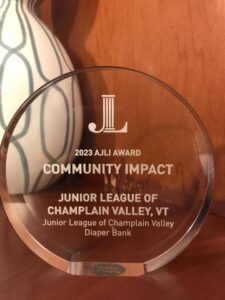 Above: 2023-2024 JLCV President Elect-Sarah Aceves receiving the JLCV Impact Award for the work of the JLCV Diaper Bank