In 2021, the JLCV began working on efforts towards legislative advocacy for the Diaper Bank. You can find a copy of the Early Childhood Day piece created to educate the public about the JLCV, its mission and its goals here.
In 2022, there was an effort on the part of JLCV to ask the Vermont Legislature for a working group to evaluate options for a path forward moving away from the volunteer-based Diaper Bank to a more sustainable model. The task force concluded their study and released a report of their findings in December 2022. You can find a copy of that report linked here.
In 2023, with the results of the task force report on Diaper Need in Vermont and the support of Vermont Early Childhood Advocacy Alliance the JLCV has been put on the 2023 Vermont Legislative Agenda. Here is a snapshot: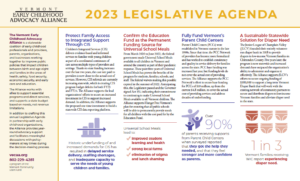 For a more detailed outline of our proposal for a State Diaper Bank please use click here.
To help illustrate the impact we've had in our five years of operations we have created this informational sheet. It includes a map of our distribution partners as well as testimonials from our community based agency partners among other things.